Mica Magic with Polymer Clay
Christy Sherman
Saturday, January 20
9 AM - Noon
Polymer clay is an incredibly versatile medium and we'll explore texture, shape, and layering techniques to create a pendant. You'll learn how to create your own shape templates or combine commercial cutters to further customize your designs.
We'll use iridescent mica powders to take black clay from boring to FABULOUS. You'll learn how to apply mica without sending it all over the room, resist techniques, and how to protect it afterwards.
If time permits, you will have the option to create additional pendants or a coordinating set of earrings.
This is a great introduction to polymer clay, jewelry and mica powders. The same techniques can be used to incorporate polymer clay into mixed media and collage work as well, and mica powders can be combined with many other mediums for an iridescent shimmer.
$65 Members $100 Non-members
$10 Material fee - All materials included
www.skygrazer.com
Owl in a Hollow Tree -
Polymer Clay Sculpting
Christy Sherman
Saturday, April 14
9 AM - 4 PM
We will work in polymer clay, and cover different techniques to sculpt, model, and texture the surface to create an aged wood/hollow tree effect. Techniques will be demonstrated on a relief sculpture of an owl in a hollow tree, and reference images for the same project will be provided, but you're welcome to sculpt whatever you like.
We'll cure the sculptures in class, then spend some time on antiquing and painting techniques for polymer clay with a comparison of acrylics, heat set oils and PanPastels.
This is a great starting point for anyone who wants to try sculpting, polymer clay, or for anyone who wants to improve their skills.
No experience needed.
$125 Members $160 Non-members
$25 Material fee - All materials included or you may provide your own.
www.skygrazer.com
Ragtime Roses
Ann Bianchi
Saturday, April 21
10 AM - 1 PM
Design a unique vintage inspired rose bouquet as a mixed media wall décor or fashion your stems as a "cut flower "bouquet. Choose colors ahead to paint or be entranced as tints merge. Choose from retro cottons, silks, linens and laces as your "canvas". Learn to twist, wrap, dye, and paint and then affix roses onto wrapped stems as you create your own forever Ragtime Roses as art. Their genuine appearance will amaze you. Make a bouquet for yourself and one for gift giving.
Perfect for weddings and events!
$65 Members $100 Non-members
$15 Material fee - All materials included
www.annebianchi.com
Pastels, Painting & Drawing
Seeing, Drawing and Painting
Trish Hurley
Saturdays, January 27 - February 17
(4 weeks)
9 AM - Noon
Do you want to start painting but don't know how... then this is the class for you! We will first start by drawing objects and understanding the structure of forms in a composition. We will then discuss and advance into shading with charcoal, building simple shapes of value to construct the still life spatially. Next we will work in paint, building up values and introducing color. Oil or Acrylic paints may be used. This is a great class for beginners or for those who want to refresh their artistic skills.
$150 Members $185 Non-members
Supply list
www.TrishHurley.com
Drawing Up Close
Felicia Touhey
Tuesdays, March 6 - 27
(4 classes)
9:30 AM - 12:30 PM
This is a class for students who have had an introduction to drawing and wish to develop their skills further. While drawing from up close observations, we will create exciting and vibrant drawings with an emphasis on composition and personal drawing styles. You will explore line, textures, value and form while using a variety of drawing materials and papers. Instruction will be geared to individual interests and abilities.
$150 Members $185 Non-members
Supply list
www.feliciatouhey.com
The Value of Color
Jeanne Tangney
Thursdays, March 15 - April 19
(5 classes - no class 4/5)
2 PM - 5 PM
Your box of pastels is filled with an array of beautiful colors - how do you select which ones to use? In this class, we will thoroughly explore all aspects of color including hue, value, intensity and temperature. We will then plan our palette by selecting from a variety of color schemes, including complementary, analogous and a few in between. Underpainting techniques, layering, and mark-making will also be explored. Various fun exercises will be included in order to more fully understand ways to interpret your photo references. Classes will include demonstration of methods, materials, and techniques, as well as plenty of individual attention. This class is appropriate for all levels.
$180 Members $215 Non-members
Supply list
www.JTangney.com
The Beautifully Draped Figure
Karen Murtha
Wednesdays, March 21 - April 18
(4 classes, no class 4/4)
5 PM - 8 PM
Nothing is lovelier than a draped figure. There isn't a better way to understand how to draw then by drawing from an actual model.
In this course we will be using a spot lit model, partially clothed or draped with a robe or soft fabric. Understanding the structure of anatomy and learning the proportions, perspective and correct relationships, will all be part of accomplishing a correct rendering.
The drapery will add another level to your drawing. We will establish how it lays on the figure, portraying the folds, creases and patterns of the fabric including the option of a print.
Light and shadow will play an important part in defining the form.
The class will begin with 5-10 minute poses to establish the gesture and movement of the figure. Moving along during class time, the length of time for poses will be extended to develop definition, edges and proper shading.
This class is appropriate for all levels.
$175 Members $210 Non-members
Supply list
www.karenlmurthaart.com
Painting with Watermedia Materials on Synthetic Papers
Cynthia DiDonato and
Robin Beckwith
Thursdays, March 22 - April 19
(4 classes, no class 4/5)
9:30 AM - 12:30 PM
Learn how to use watermedia materials on Terra Skin and Yupo papers. Participants will experiment with using various techniques to apply liquid, tube, pencil and crayon watermedia materials to create artwork that employs shapes that are both representational and abstract.
$150 Members $185 Non-members
$15 - Materials fee
Supply list
cynthiadidonato.wordpress.com
Painting Big and Bold
Trish Hurley
Wednesdays, April 18 - May 16
(4 weeks, no class 5/2)
1 PM - 4 PM
In this class we will work BIG! On large canvases and with big brushes, we will start to work loosely with layering colors of simple objects and shapes and then work up to more complex subjects such as flowers, trees and landscapes. This class is great for those who want to experiment with creativity and think outside the box. Demonstrations and inspiring visuals start you off each class. You can work in either oil or acrylic paint. Beginners with patience are always welcome.
$150 Members $185 Non-members
Supply list
www.TrishHurley.com
Photo Projects: An Introduction
Shane Gutierrez
Thursdays, January 18 - March 1
(6 classes - no class 2/8)
6:30 PM - 9 PM
Whether building a photography business, planning a gallery show or creating a multimedia presentation, photographers are wise to consider the project planning process. To succeed at having your images recognized, you need a deliberate plan that takes into account such aspects of photography as budgeting, rights and permissions, not to mention getting your gear transported for location shooting. In this course, the instructor acts as your director or curator, giving you honest feedback while your self-defined project progresses from raw thumbnails to its unveiling six weeks later. The editing process is emphasized throughout as you learn to examine your shots with a more discerning critical eye. There are many challenges when approaching a project and this class will give you a good understanding on how to start, work through and finish a photo project.
Students need and must know how to use a digital camera and should be able to bring a jump/flash drive or a CD of their images weekly. Some type of photo editing software is a plus.
$180 Members $215 Non-members
www.shanephotography.com
Foundations of Digital Photography
Cindy Wilson
Wednesdays, January 24 - February 21
(5 classes)
4 PM - 6 PM
Do you have a new camera? Or, how many times have you tried to comprehend your digital camera's manual only to be frustrated and shoot on automatic? Learn all about your digital camera's settings, menus and how to make better photograph in this five-session course.
Join Cindy and learn about digital photography from the ground up. We start with the camera, its buttons and menus, and expand with digital terminology. We will move then to understanding exposure through ISO, aperture and shutter speed. We will also learn about proper focusing techniques. As a bonus, we will spend one class learning a little about photo software and post processing.
There will be in class instruction, assignments and slide show discussions of our work. The winter is a great time to learn to use your camera; there is beautiful light to make images and you'll be ready to take on the spring with your newfound knowledge!
Whether a beginner or a refresher, you will learn in this five class series.
$200 Members $235 Non-members
www.cindywilsonphoto.com
Photographing the Nude
Shane Gutierrez
Thursdays, March 15 - April 26
(6 classes - no class 4/5)
6:30 PM - 9 PM
As in painting, drawing and sculpture, the human figure is a classic theme in photography. How the serious photographer uses subtle techniques to portray the mystery of the human form - its energy, pathos or elegance - is the subject of this workshop. Participants investigate the interrelationship of lighting, angle, focus and subject matter. And of course, composition, lighting for tone, texture and mood are all explored as well. More particularly, participants learn how to build trust with a live model. Students must know how to use a camera.
$215 Members $250 Non-members
www.shanephotography.com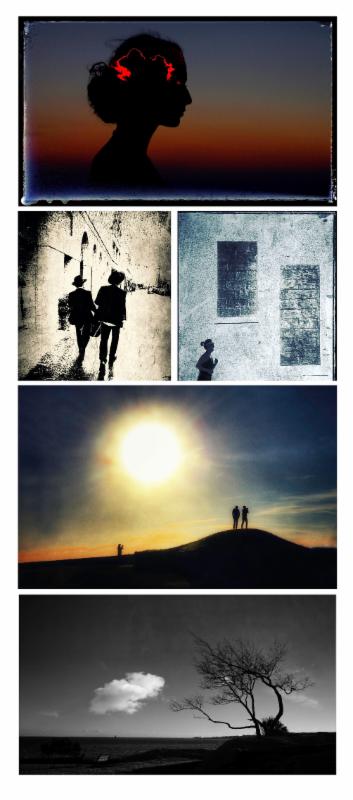 iPhone Apps & The Creative Process
A workshop about transforming your iPhone images
Jan Armor
Saturdays, March 10 - 24 (3 classes)
9 AM - 12 Noon
iPhone photography can be much more than just pushing the big white button.
The amazing iPhone artist Karen Divine said, "I don't see the world in a literal way so for me to take a photograph of something I can already see is very uninteresting... You don't want to just look at the image and "get it," you want to look at that image and really wonder. Like, what is that person trying to say, or how did they do that?" http://www.karendivinephotography.com
This is a workshop where your images will meet inspiration. Because abstract art doesn't have to be an accurate representation of the subject, you have the freedom to be as creative with your photo editing processes as you wish. Using inexpensive apps, the possibilities are endless, limited only by your imagination. Dream it and you can do it on your iPhone or iPad.
We will work with a variety of alternative cameras to extend the limits of what is possible with the one in your iPhone or iPad. You will learn how to transform your pictures using powerful editing apps. You will discover the art of compositing two or more images to create an altered reality. In our class we will employ different "workflows" that make using these apps easier.
You will work exclusively on your iPhone or iPad. Newer models work best but older devices can be used as well. Additional purchases may be required for apps used in class.
$145 Members $180 Non-members
www.instagram.com/janthephotoman/
www.armorphoto.com/apps
Supply and model fees are paid directly to the instructors in class.
Please do not include them in your payments.
Registration, refund and photo policy is available on our website.
Sign up for a class today!
Registration is easy...on our website, by phone or in person. Look forward to seeing you soon!
Tuesday Open Studio: 12 to 3 PM
Open to artists of all levels
Studio fee: $2 members, $5 non-members
Photo Arts Group
Every 2nd and 4th Monday at 7 PM
Gallery Hours
Tuesday - Saturday 11 - 3, Sunday 12 - 3 Closed on Monday
36 Beach Street, Wickford, RI
401 - 294 - 6840