Pins & Ornaments in Polymer Clay Christy Sherman
Saturday, December 17, 2016
10 AM - 1 PM
Learn how to transfer artwork or photographs to polymer clay. This technique is perfect for making pins, ornaments or tiny art pieces. You will be able to make several pieces and try out different techniques, including black and white art on colored or metallic clay, colored images on white clay, simple shapes, decorative sculpted frames and how to make your transfer look aged. All materials will be provided. No experience needed.
$50 Members $85 Non-members
$20 Material fee - All materials included
www.skygrazer.com
Fusing Your Heart with Glass
Alice Benvie Gebhart
Sunday, January 22, 2017
1 - 3 PM
In this class you will create a fused glass heart within an 8" white frame. Your heart shaped glass panel will consist of glass fragments in colors of your choice. Students will create a translucent framed heart using fusible glass in transparent and opalescent colors. You will be cutting, arranging and building glass. The design will be fired and fused together using heat in a glass kiln. Absolutely no experience in glass is needed! All materials (glass and a white wooden frame) included.
$35 Members $70 Non-members
$20 Materials fee - All materials included
www.AliceGebhart.com
Basic Drawing FOR Visual Expression
Claire Bowen
Tuesdays
January 17 - February 7 (4 classes)
9:30 AM - 12:30 PM
Most active visual artists are often challenged when attempting to create a balance between their drawing skills and visual expression. Some artists are blocked by their inability to reproduce their intentions clearly. In this class you will improve your drawing skills for a more accurate form of communication. Students will be introduced to the basic principles of two dimensional design through creative use of mark making. There will be introduction to shading to indicate the light source. You will also be shown ways to use correct measurement for proportional accuracy, perspective, and foreshortening. This class will emphasize the importance of drawing as a study of visual knowledge.
$150 Members $185 Non-members
Supply list
clairebowenstudios.com
Exploring Creativity through Acrylic Painting - Jen Ferry
Saturdays
January 14 - February 4 (4 classes)
10 AM - 1 PM
In this studio style class you'll take reference material, of your choosing, and reconstruct it onto the canvas using different acrylic painting techniques. You will create paintings that are unique to your own style. By exploring composition, color preference and texture, you'll transform an object, photo, or a group of photos, into pieces of art that reflect your individual creativity. You will learn how to create an intuitive under painting and then paint layers on top that form representational items. This will lead to a unified composition that creates depth and interest to each artwork. Individual attention is given to meet each student's expectations.
$150 Members $185 Non-members
Supply list
jenferry.com
Basics and Beyond in Oil Painting
Trish Hurley
Wednesdays
January 18 - March 1(6 classes - no class 2/8)
1 - 4 PM
Learning to see, compare and mix simple shapes of tone and color is how we start. We will advance each week in our knowledge of composing shapes, creating form and learning how to see and mix those colors. This class is geard for the beginning student as well as those who want a refresher course and time to paint.
$210 Members $245 Non-members
Supply list
trishhurley.com
The Art of Marketing: Using Social Media to Promote Your Work
Emily Stoermer
Saturdays
Feb 11 & 18 (2 classes)
10 AM - 3 PM
This course will provide an overview of best practices for using free social media to promote and catalogue an artist's work and how to integrate their use with a simple yet effective website. The first class will provide students an introduction to major available platforms (Instagram, Facebook, Twitter/Periscope and LinkedIn), how each is best used by artists, and how to employ a social media presence to most effectively reach audiences. In the second half, we will discuss examples of available free and inexpensive hosting services, such as WordPress, and what the first steps are in setting up a presence on one of those sites.
$125 Members $160 Non-members
emilystoermer.com

Explorations in Charcoal Drawing Kathy Hodge
Saturdays
February 25 - March 18 (4 classes)
10 AM - 1 PM
Have you ever tried charcoal but found it messy and hard to control? I will take you step by step of how to build up a drawing with rich blacks and interesting textures only achievable in charcoal. I stress working almost sculpturally, pushing the charcoal around on the paper until the movement and structure is felt, moving from the more fluid soft charcoal to the more permanent hard pencils. I will set up several interesting still lifes and provide drawing kits (paper, charcoal, erasers, etc) for each participant, which they may keep.
$150 Members $185 Non-members
$7 Materials Fee (All materials included)
kathyhodge.com
Foundations of Digital Photography
Cindy Horovitz Wilson
Wednesdays
February 8 - March 1 (4 classes)
5 - 7 PM
In this class we will explore digital terms, exposure, focusing, white balance, file size and resolution, all the ingredients necessary to understand the basics of technical proficiency. We will practice and become comfortable with the settings on your digital camera through hands on classes, assignments and critiques. Learn to make photographs instead of taking photos!
**CLASS FULL**
$150 Members $185 Non-members
cindywilsonphoto.com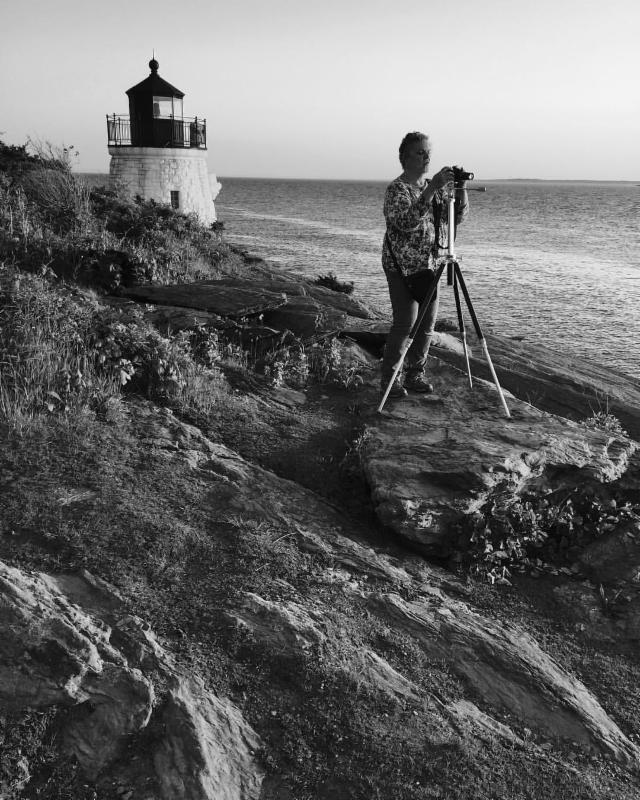 The Next Step in Digital Photography
Cindy Horovitz Wilson
Wednesdays
March 15 - April 5 (4 classes)
6-8 PM
Now that you have a basic understanding of how your camera works, how to use aperture and shutter speed in a fundamental way, it is time to really dive in and take the Next Step in Digital photography. In this class we will explore in depth more creative image making; effective focusing, metering, file formats, exposure modes and composition. There will be in-class discussion, assignments, critique, and development of each student's personal vision.
Experience for this class: a basic knowledge of your camera and digital terminology.
$150 Members $185 Non-members
cindywilsonphoto.com
Mobile Phone Photography: The Art of the iPhone or Android Phone
Jan Armor
3 Session Workshop
Thursday, March 23, 7 - 9 PM (The camera and inspiration)
Saturday, March 25, 10 - Noon (On location photo shoot)
Thursday, March 30, 7 - 9 PM (Editing and Apps)
It's a new age. "It's been said that the best camera is the one you have with you" and the phone in your pocket does indeed offer a spontaneous new way to make good pictures. In this workshop you will learn how to create artistic photographs with the camera in your phone. You will also learn how to edit and process your images using Apple "Photos", Google "Photos" and other apps.
**CLASS FULL** (waiting list available)
$110 Members $145 Non-members
armorphoto.com
Sculpt a Dragon
Christy Sherman
Saturday, April 8, 10 - 3
10 AM - 3 PM
This workshop will be an in depth exploration of all things dragon as we sculpt one in relief. We will work in polymer clay, and cover different techniques to sculpt, model, and texture the dragon. Relief sculpture is a marvelous combination of 2 and 3 dimensional techniques, drawing and sculpting at the same time. Look at a coin to see a miniature example of a bas-relief. I will demo techniques such as different scale patterns, body, and wing designs, along with a few shortcuts I've learned along the way. I'll provide reference images for the same project, but you're welcome to make whatever you like. We'll learn how to create a gorgeous iridescent effect for the dragon scales and I'll also cover texturing and dry brushing techniques to create realistic looking stone.
This is a great starting point for anyone who wants to try sculpting or polymer clay. No experience needed, and techniques will apply to any sculpting project you do, not just dragons.
$100 Members $135 Non-members
$25 Material fee - All materials included
Exploring Adobe Photoshop for Artists & Photographers
Karen L. Murtha
Wednesdays
March 15 - April 5 (4 classes)
9 AM - 12 Noon
Adobe Photoshop is an exciting and fun application! Students will be exposed to the abilities of what it can do by helping with overall image refinement and exploration through imagination. Students will develop aesthetic skills that may be used to enhance other art mediums too! In this course, we'll explore the great tools of Adobe Photoshop; focusing on developing a knowledge of the language and aesthetic skills to adjust and edit your images. This will include cropping, contrast, exposure, color adjustment and enhancement, plus the process of restoration for old or antique photos. We will study the finer points of layering, abstracting and manipulation and also learn to take out or add, objects and people in your photos. A laptop or computer with the Adobe Photoshop application is required. This class is open to students of all levels.
$150 Members $185 Non-members
The Value of Color - Pastels
Jeanne Tangney
Thursdays
March 23 - April 20 (4 classes - no class 4/6)
2 - 5 PM
Your box of pastels is filled with an array of beautiful colors - how do you select which ones to use? In this class, we will thoroughly explore all aspects of color including hue, value, intensity and temperature. We will then plan our palette by selecting from a variety of color schemes, including complementary, analogous - and a few in between! Underpainting techniques, layering, and mark making will also be explored. Various fun exercises will be included in order to more fully understand ways to interpret your photo references. Classes will include demonstration of methods, materials, and techniques, as well as plenty of individual attention. This class is appropriate for all levels.
$150 Members $185 Non-members
Supply list
Moments of Stillness - Painting the Still Life in Pastel
Jeanne Tangney
A One - Day Workshop
Friday, March 24
9 AM - 4 PM
Still lifes are more than a collection of objects. A story can be told by the subjects selected and how they are arranged and painted. Personal interpretation and creating a mood support this narrative. In this class, we will study how to create the illusion of depth and atmosphere while learning the importance of shapes, values, edges and color. We will also explore the technical aspects of setting up a still life, lighting concerns, tips for accurate drawing, and guidelines for interesting compositions. Students will receive plenty of individualized instruction to help them reach their personal goals. Prior drawing experience will be helpful, but all pastel levels are welcome. Oil painters are also encouraged to participate, as the concepts are common to all media.
$125 Members $160 Non-members
Supply list
JTangney.com
Painting with Watermedia on Terra Skin
Cynthia DiDonato
A Two - Day Workshop
Wednesday & Thursday, April 12 & 13
10 AM - 1 PM
Learn how to use water media to paint on Terra Skin, an environmentally friendly paper made from mineral powder and non-toxic resin. Participants will experiment with using several techniques to apply liquid, tube, pencil or crayon watermedia to Terra Skin to create abstract or semi-abstract paintings from their imaginations or their own photos.
$90 Members $125 Non-members
$15 Material fee - For 2 large sheets of Terra Skin
Supply list
www.cynthiadidonato.wordpress.com
Shibori Expressions - Ann Bianchi
A Two - Day Workshop
Saturday & Sunday, April 22 & 23
10 AM - 2 PM
Fabrics from natural cellulose fibers (cottons and silks) will be our "canvases" as we experiment with historical and cultural dyeing and resist methods. Working in the styles of Arashi Shibori, Itajime Shibori and Adire Elesso, we'll add colors to white cloth for fantastic results. A beautifully prepared cloth may be constructed into a wearable item or perhaps framed as a piece of art, or a wall hanging. In this workshop I will provide multiple demonstrations, and offer guidance on suggested final product applications. Be prepared to be amazed with your results, have fun and witness colors merging together as they take on a life of their own! Work with varieties of fabrics within each method and observe countless outcomes. Samples of completed work and step-by-step instructions will guide participants. No prior experience needed. All skills are welcome.
$120 Members $155 Non-members
$25 Material fee - All materials included
www.annebianchi.com
Fast and Fresh!
A Two - Day Pastel Workshop
Michele Poirier Mozzone, PSA, IAPS/MC
Saturday & Sunday, April 29 & 30
9 AM - 4 PM
Working from photographs, we will explore good composition, underpainting techniques, color choices and how a successful underpainting affects your finished piece. Timed exercises will help free you from hesitation and loosen you up. This workshop pertains to all subject matter - landscape, figurative, still life, etc. Basic knowledge of pastel is helpful, but not absolutely necessary.
$250 Members $285 Non-members
UArt Sanded Pastel Paper will be available to buy for $15 a sheet.
Supply list
www.Poirier-Mozzone.com
Supply and model fees are paid directly to the instructors in class.
Please do not include them in your online payments.
Registration, refund and photo policy is available on our website.
Sign up for a class today!
Registration is easy...on our website, by phone or in person. Look forward to seeing you soon!
Tuesday Open Studio: 12 to 3 PM
Open to artists of all levels
Studio fee: $2 members, $5 non-members
Photo Arts Group
Every 2nd and 4th Monday at 7 PM
Gallery Hours
Tuesday - Saturday 11 - 3, Sunday 12 - 3 Closed on Monday
36 Beach Street, Wickford, RI
401 - 294 - 6840
www.wickfordart.org